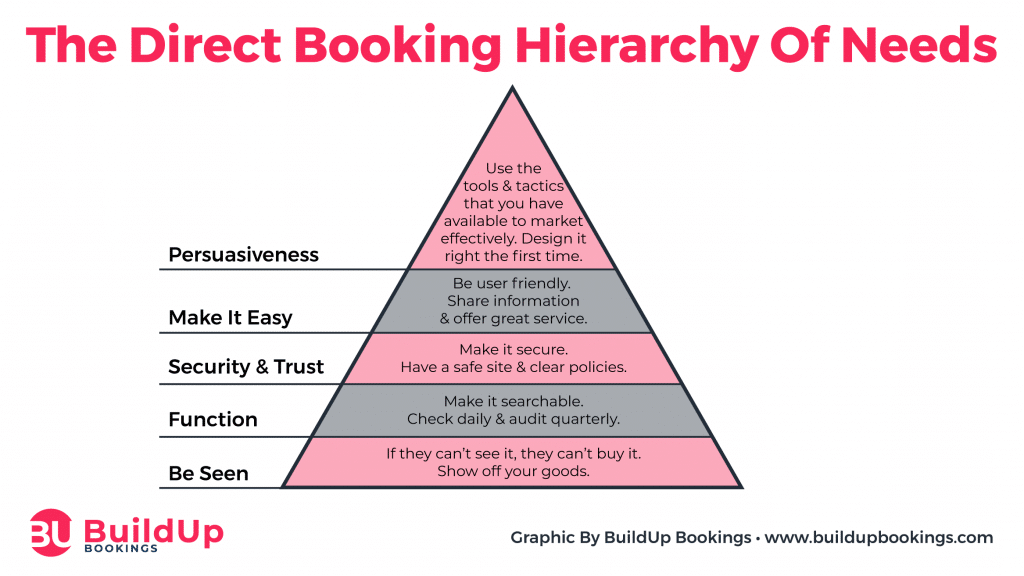 In 1943, Abraham Maslow penned "A Theory of Human Motivation", attempting to break down and understand how and why humans grew and flourished. His revolutionary framework Maslow's hierarchy of needs became the first psychology concept that every high school student would learn for the next 75 years (and beyond). This same basic theory works with just about any business, and short term rentals are no different. 
Maslow's hierarchy of needs teaches us that humans innately seek the following:
Now, let's look at this concept from the vacation rental perspective, as it relates to receiving direct bookings.
Be Seen
The number one rule of sales is, if they can't see it they can't buy it. You want to get your product in front of as many eyes as possible and you want that product to look good. Retail stores stock products on shelves, place displays on the showroom floor, and offer point of purchase options. Your website should be treated the same way. Make sure you have a professional looking website with plenty of information for your potential guests. Remember if they can't see it, they can't buy it, so be sure to show off your wares wherever it makes sense.  
Function
You have a great looking website and plenty to offer, but you want to make sure everything works. Nothing happens on any accommodations or travel website without the search function working properly. In other words, if that "Search" button doesn't actually search your properties when the guest clicks it, it doesn't matter how great your website looks, you will lose the sale because they can't access the product. 
You clean your properties regularly to ensure guest satisfaction and comfort. You website should be no different. It's important to check your website daily to ensure basic functionality, but full scale audits should be performed quarterly to ensure that everything is not only working but working properly. You want your guests to get the right information every time they search. 
A fully functioning website that looks great and loads quickly can be the difference between wasting money and making money. By ensuring functionality in your website, you are not only driving sales but you are giving a great first impression. On the other hand, if you can't even keep your website working, how can your customer assume you can keep the toilets flushing?
Security & Trust
So now your business has the basic functionality it needs to grow. Your website looks professional and your customers can find all the information they need, but you also want to make sure that your customers feel safe doing business with you. The first impression a guest has of your business is your website. Make sure that you are hosted on a secure server. Everyone wants to feel safe when they shop, and this guarantees that your customers' financial information is secure at all times. 
Offering a secure payment option is a great first step in building trust with your guests. When booking accommodations online, customers have certain expectations that you need to keep in mind. Guests want rapid response to any inquiries. It is imperative that you respond to online requests as quickly as possible. This will not only increase sales, but it makes the consumer more comfortable doing business with you. By communicating regularly with your guests before, during, and after their stay you will continue to build trust as well as having the opportunity to offer world class customer service while increasing sales. 
To seal the deal and show your customers that you are trustworthy, the most important thing is to be honest. Every business has rules and nobody expects yours to be any different. Post your policies clearly, ensuring that your guests know what is expected of them and what they can expect from you in return. When it comes to cancellations and refunds, be reasonable. Guests need to feel that if something doesn't go as planned they are covered. An often overlooked area of the growth of OTAs, in the hotel vertical of the late 2000's, was the fact that guests feel booking with OTAs is more secure. The middleman adds confidence to the purchase primarily due to the well established policies that guests are already comfortable with. You can be extremely competitive in this market by offering the same types of policies that the customer expects.
While Expedia is always testing ad messaging, as recently as 2017 they sold the security and trust of their platform: you can cancel for free!
Make It Easy
When traveling for business or pleasure, everyone appreciates a simple, hassle-free experience. Your website is a great tool that can do so much more than just describe your property and act as a point of sale. Include information that can be useful, or even just fun, for your guests. By making your website as informative as possible you make it easy for your guests to plan their stay, and they appreciate that. 
Consider adding a blog to your website that includes content about local restaurants, bars, attractions, and other points of interest. This is a great way to introduce your guests to your location while building confidence in booking with you. At the time of booking, send information about what kind of weather can be expected, what type of public transportation is available, and if any special events are going on during the time of the stay. Great customer service always makes traveling easier, and you're scoring points before your guest even arrives.
Package deals are an option that can make your website a one stop shop for your guests. It's pretty easy to work out partnership deals with local and even national businesses allowing you to offer dining packages, rental car deals, attraction tickets, and more. Being affiliated with well known chains and even local businesses not only helps you to make more profit, but adds the service that your customer expects. 
Persuasiveness
So you can offer great deals on a professional website and you know that you customers are going to feel confident booking with you. Now it's time to let everyone know you are open for business and offering great deals. Use your ad budget wisely by creating a well laid out marketing plan using all the tools and tactics at your disposal. 
When it comes to websites, what you see is not always what you get. You want to ensure that the back-end programming on your website is acceptable to search engines. By using a professional design and programming team, you will be certain to not only get a great looking website for your users but also for Google, Bing, and other search engines. 
By utilizing multiple forms of advertising including social media, video, audio, and graphical ads you can reach a large, well targeted demographic. By employing advanced marketing techniques, like urgency, you can create a direct call to action. For example "Only Three Days Left To Save 40%" or "Last House Available For The Big Game". Find out why people are coming to your area and market directly to them. You aren't just selling your property, you are selling your destination. This allows you to refine your marketing strategy and make the most effective use of your ad budget.