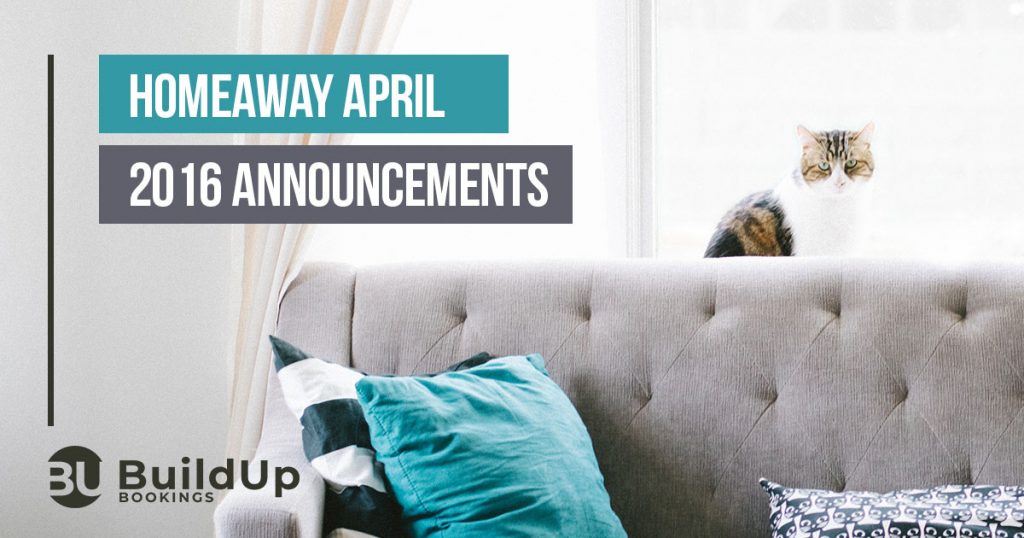 HomeAway is changing things up.
Again.
Here's everything you need to know about the April 2016 updates from HomeAway, which impact every single listing on the platform and may change how you run your rental business. I'm breaking down HomeAway's new changes (and inserting my opinion) into how these changes may change the landscape of the vacation rental industry.
Restating Commitment To Bringing More Bookings
One theme that came up during HomeAway's announcements was their commitment to getting property managers more bookings. Of course, this lines up well with what HomeAway has been communicating for months. As they transition from a listing model to a commission model, more bookings means more cash for HomeAway. All of the changes that HomeAway is making they feel are the best long-term choices for you and HomeAway to see more overall travelers and bookings for property managers.
Annual Subscription Fees Restructured
The biggest update was in regards to those utilizing the annual subscription method for listing on VRBO/HomeAway/VacationRentals.com. Quick facts:
On July 11th, you won't be able to purchase Platinum, Gold, Silver, Bronze or Classic listings.
Special Offers are being phased out.
Listing bundles are being phased out (all properties are on VRBO/HomeAway/VacationRentals.com by default).
A new product is under development that allows for a short-term boost in rankings similar to Google AdWords versus organic results.
New fees are $349/year for listings with online booking added, $499/year for listings without online booking.
In short, HomeAway is encouraging you to first use online booking (that point is covered more down below) and to dramatically lower the cost of listings for many property owners and managers. It's interesting to see the two forces here that make this a compelling change: fees have gone down, but inventory distribution has gone up across the various HomeAway family of listing sites. One thing is very clear: HomeAway wants you to enable online booking. Pointed out several times during their announcement was the fact that enabling online booking doesn't lock you in to the reservation: you can still cancel or decline the booking.
Pay Per Booking or Annual Subscription?
By far one of the most common questions from new owners to HomeAway is the option between commission based booking and the annual subscription. While doing my research, I found a very interesting support page on HomeAway that tries to cover this very question.
Here, HomeAway makes the point that any property that's booked less than 6 weeks per year should use their pay-per-booking model while properties over that should use their Annual Subscription. I'm not sure if HomeAway's reps are consistent in this messaging, but the website may be soon updated to perhaps reflect their goal of making more on pay-per-booking.
Best Match Expanded & Explained
While Best Match isn't a new concept to the HomeAway family of websites, more updates are coming. Mentioned above, HomeAway is going to announce a new feature soon that will allow for two areas of property results: boosted and non-boosted. Similar to Google and AdWords, there will soon be listings that pay extra to show up at the top of any given search results page while other listings go underneath. While details were slim on this new feature, it's safe to say I'm very interested in how this impacts owners and property managers. Watching the "double dip" of fees to HomeAway won't make some property managers happy, but others looking to generate more bookings that were hurt by Best Match should take notice.
According to HomeAway, Best Match is largely impacted by online-bookable properties. Listings with online booking get 86% more bookings than those without according to their data. I wonder how accurate this could possibly be as many owners that opt-out of online booking are contacting the guest directly for payment information, bypassing HomeAway's systems completely.
HomeAway had the following to say about getting Best Match to love your listing.
Offer and use online booking (Editor's note: repeated a lot throughout)
Use HomeAway Payments or send payment request through your dashboard
Keep an accurate calendar and accurate rates
Accept as many bookings as possible
Respond quickly and frequently to all inquiries
Maintain quality photos with an attractive thumbnail image to drive page views
Get positive reviews from past guests
Be competitive with other listings in your area that have similar size and amenities
More Traveler Fee Updates
A lot has been said and written about the new Traveler Fee from HomeAway that doesn't need to be repeated. HomeAway is slightly changing the fee with April's announcements and some details may impact your properties. Starting June 1st, 2016 the fee will now never exceed $399 in total amount. This is a reduction on the high-end of the market from the current cap of $499. If you have higher priced rentals, you may be happier with this change in bookings that were hitting the max fee. Other notes from HomeAway include mentioning that accepting online bookings means that the traveler fee is added automatically to the booking. Following through these traveler fee updates to their logical conclusion means this: Best Match favors properties that accept online bookings and thus collect the travelers fees.
Getting More Visibility On Google
HomeAway had an interesting note on how Google's updates to their search results layout pages and ad platforms are driving their decision behind the traveler fee. From HomeAway:
More travelers: One of our goals is to significantly increase our bookings on our sites, and the service fee helps us achieve this because it allows us to reach more travelers. When we first launched our family of sites, they organically appeared at the top of Google search results when travelers searched for vacation rentals. This "free" traffic was a key element to reaching travelers.

However, both Google and the market competition have evolved over the last 10 years, making it more difficult—and more expensive—to reach qualified traveler audiences. Google, for example, is charging more for premium placement in their search results, so we're having to invest more to deliver traffic to our sites. The service fee directly supports our investment in Google and other marketing initiatives to continue bringing qualified travelers to your listings.
Broadly, HomeAway is spending a lot more on Google AdWords with their revenue from travelers fees. VRBO.com still ranks very highly in Google for tens of thousands of organic keywords for search, but local SEO updates have knocked VRBO towards the middle of the search results pages for these keywords. HomeAway has had it's own Google issues recently that may be impacting their organic traffic as well.
As a result of these organic updates the umbrella brands of HomeAway are investing more into AdWords. For many of my vacation rental PPC marketing clients, it's typical that I'd find VRBO or HomeAway advertising in the search results, but I can see the increased spend recently. Below is a search result for Myrtle Beach that has three of the four top ad slots to the HomeAway branded websites.
As mentioned above with the new listing models having inventory on every HomeAway website, I feel it's a fairly poor experience for the guest to search and see three different websites with largely the same exact inventory on them.
Adding Analytics Tools & Product Features
HomeAway is also adding a new suite of tools and product features that'll help owners and property managers make better decisions. They include enhanced listing analytics, traveler reviews and the cut from 10% commissions on pay-per-booking to 8%.
Details are scarce on the new enhanced listing analytics tools, but HomeAway may be adding more pricing tools into their dashboards. As dynamic pricing tools and software products have grown over the past two years in the vacation rental industry, HomeAway wants to help provide more data to property managers.
Traveler reviews is a page taken from the Airbnb playbook, but it's a valuable tool that may let you know what you're getting into. As of right now, I am thinking that listing reviews are only for those who have HomeAway traveler accounts. Currently, HomeAway is only supporting traveler reviews on listings that accept online bookings.
Homeaway's cut on pay-per-booking listings from 10% to 8% is a good step forward as it does include the payment processing. Many payment processing costs are around 2-3%, so only 5% or so is going towards HomeAway in this model.
More To Come?
As HomeAway adds more features I'll be sure to keep you up to date. Any questions? Feel free to reach out on Twitter or email me conrad@buildupbookings.com.